In this article, we have put together 14 incredibly eye-catching simple false ceiling design for bedroom. We have also discussed some helpful tips to keep in mind when designing and choosing a ceiling design. So, make sure you read the complete article.
False ceilings will retain their dominance in the interior of a home, ceiling structures look stylish and will never go out of trend. They also hide excess wiring and add aesthetic value to the home. They tend to be more energy efficient as they prevent excess heat and cold. Its a very important element of the interior, and in most cases it is not well thought out and underestimated. A good false ceiling design should match your walls, furniture, floor and you. False ceilings with elegant wooden beams create an interesting combination, as the design highlights the entire interior. For gypsum ceilings, pastel shades are popular in combination with white and cream. Innovative lights built into stretch ceilings of plasterboard are very popular as they radically transform the interior of a room.
Simple false ceiling design for Bedroom | POP false ceiling design for bedroom
Profile Light False Ceiling Design for bedroom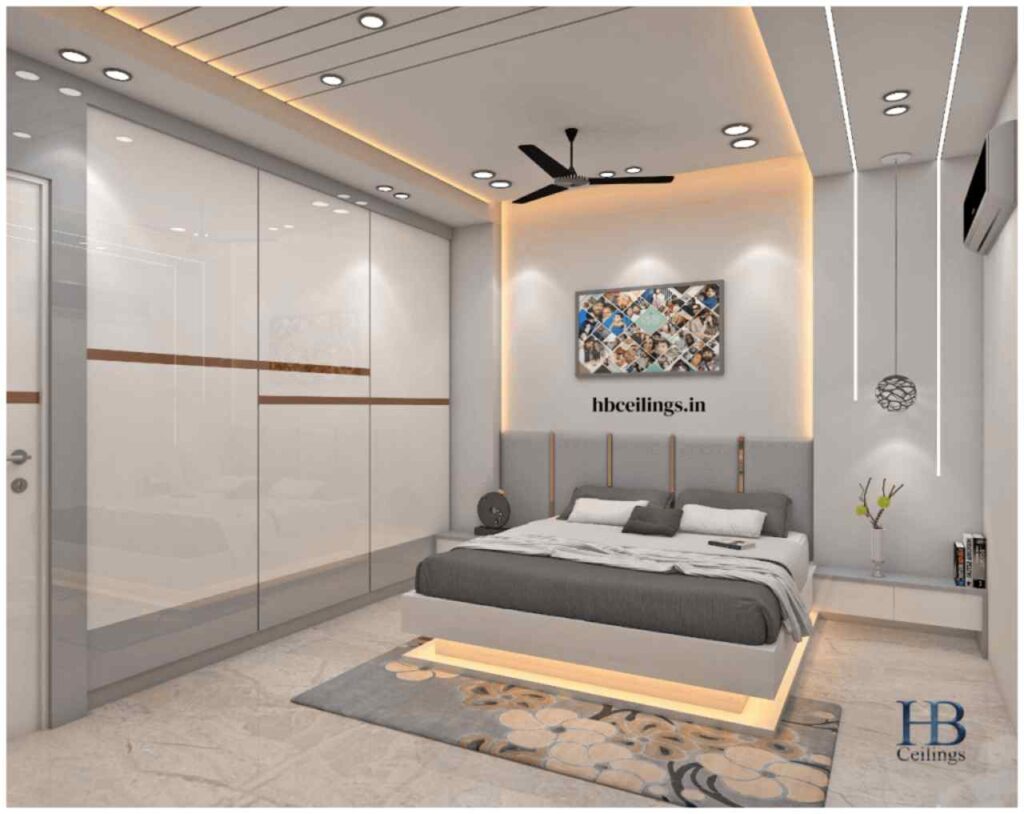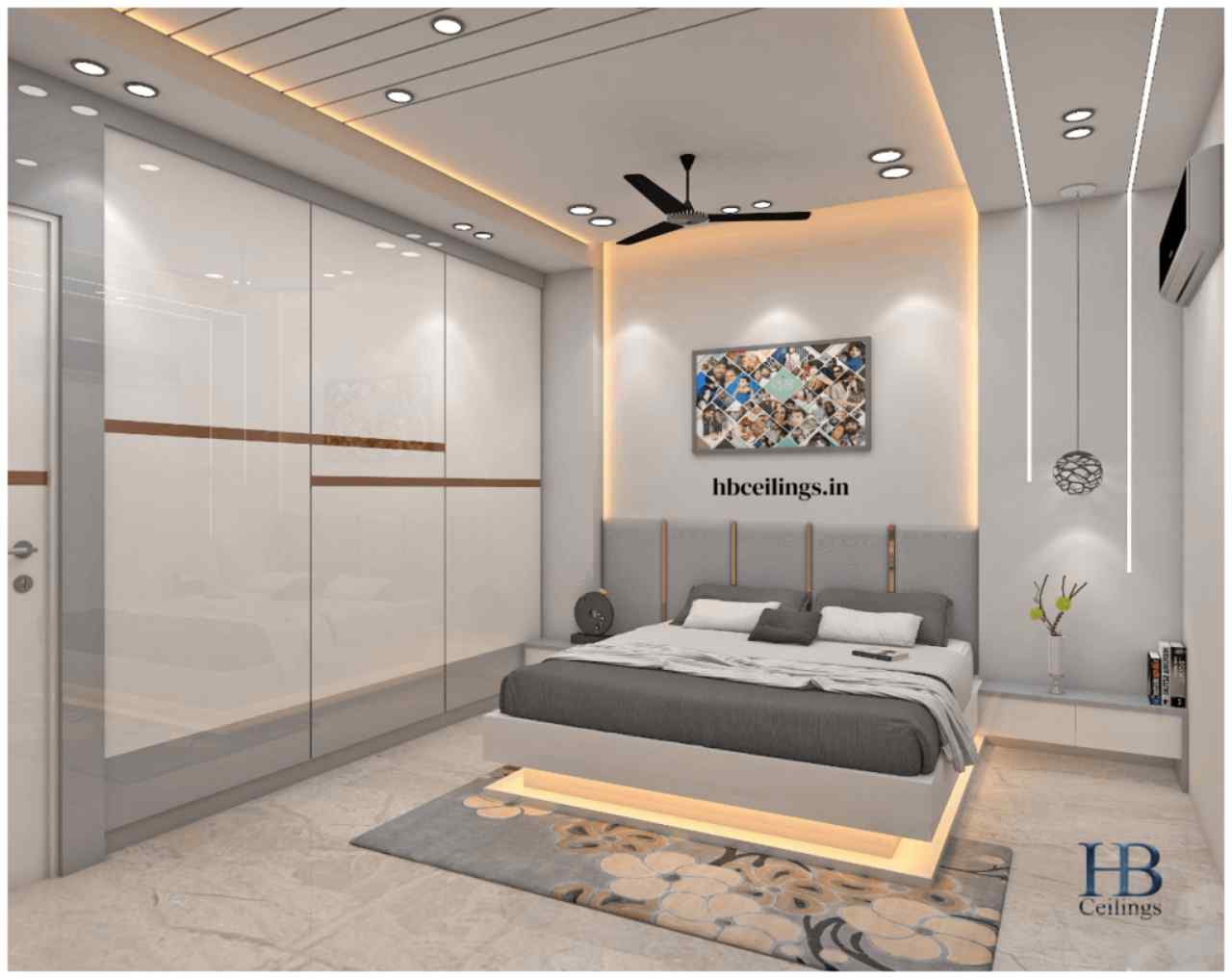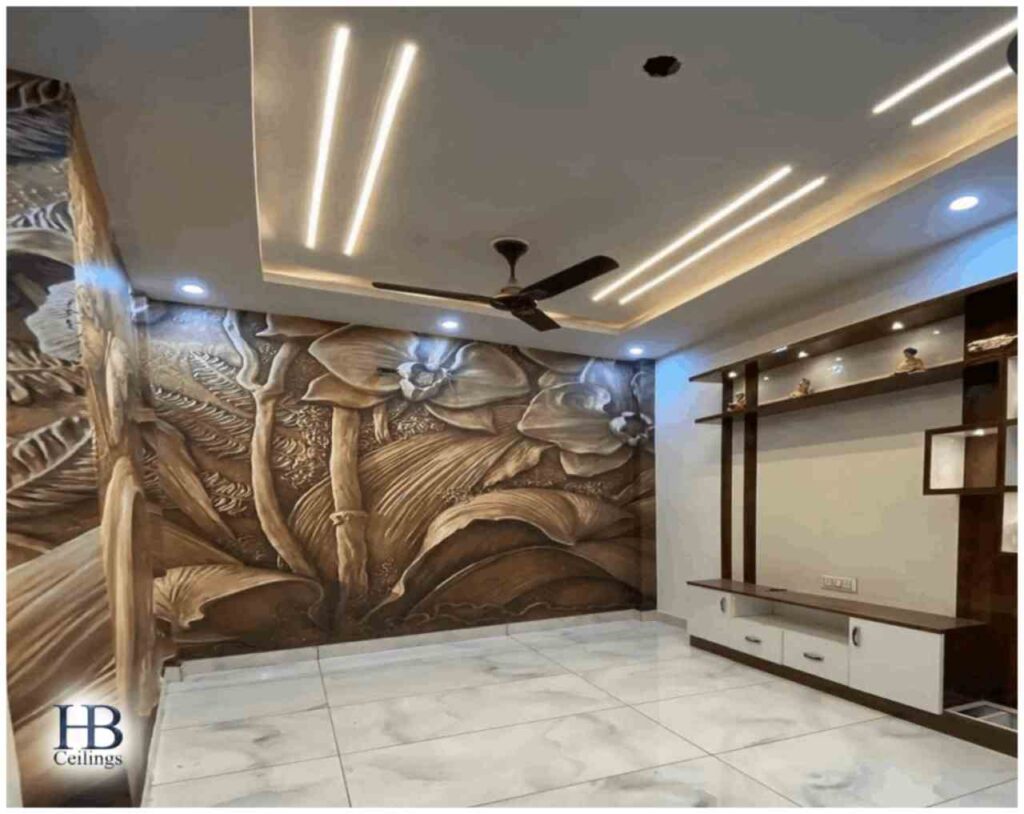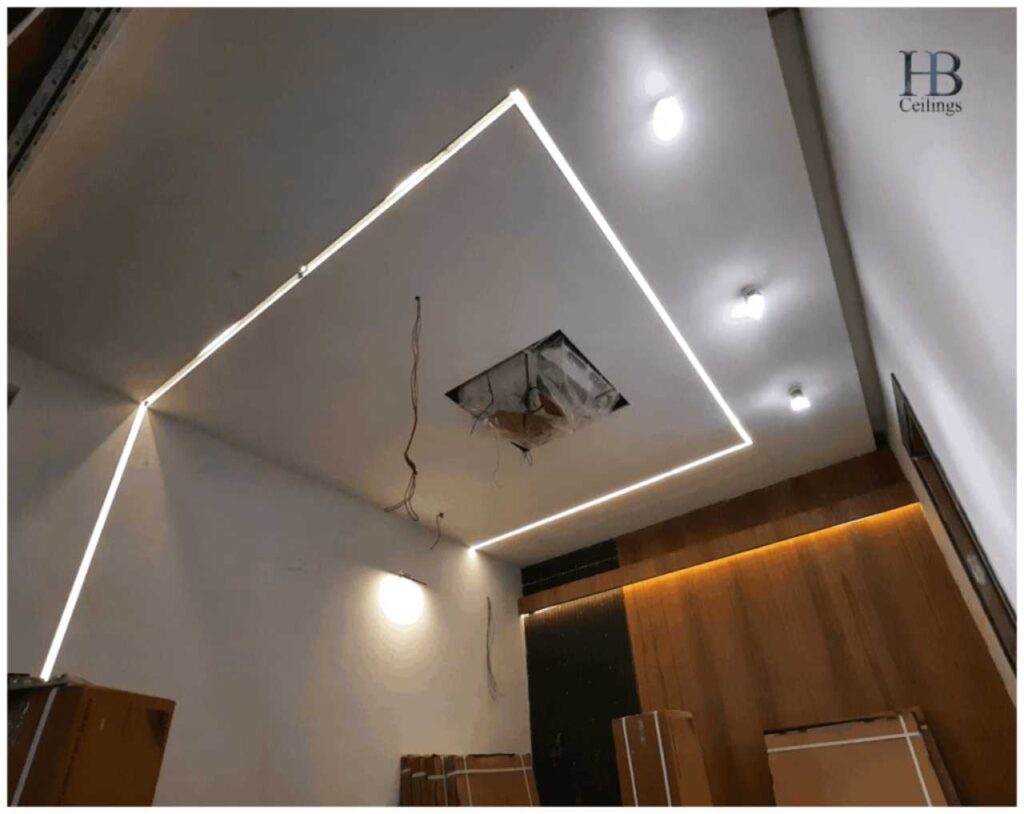 False ceilings with profile lights currently very trendy, whether its a commercial or residential sector, they are used in all areas. Profile lighting is a modernist fusion of indoor space, design knowledge and creative thinking. It consists of aluminum profiles or aluminum channels, LED stripes which illuminate the overall room. It not only gives an aesthetic look but also enhances the overall looks of your room or office. Profile lights come in different sizes and generally warm white led strips used in the ceilings. Bright white led strips used when one wants more illumination in a room.
Plain False Ceiling Design or Smooth stretch ceiling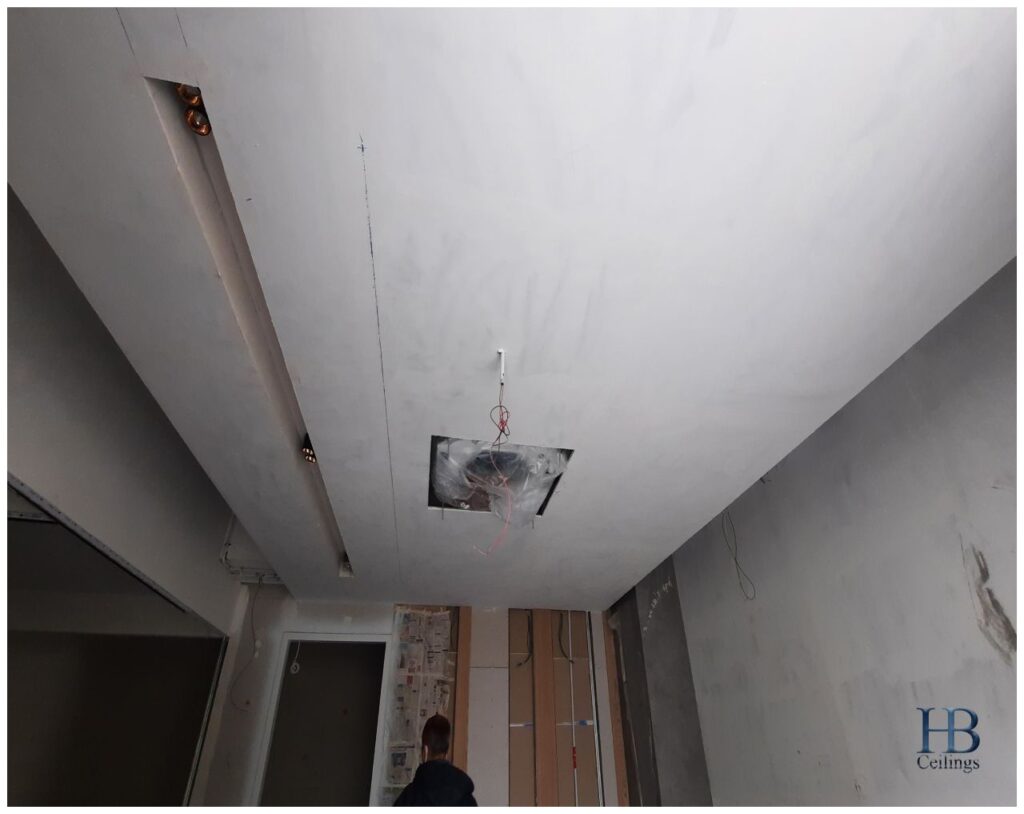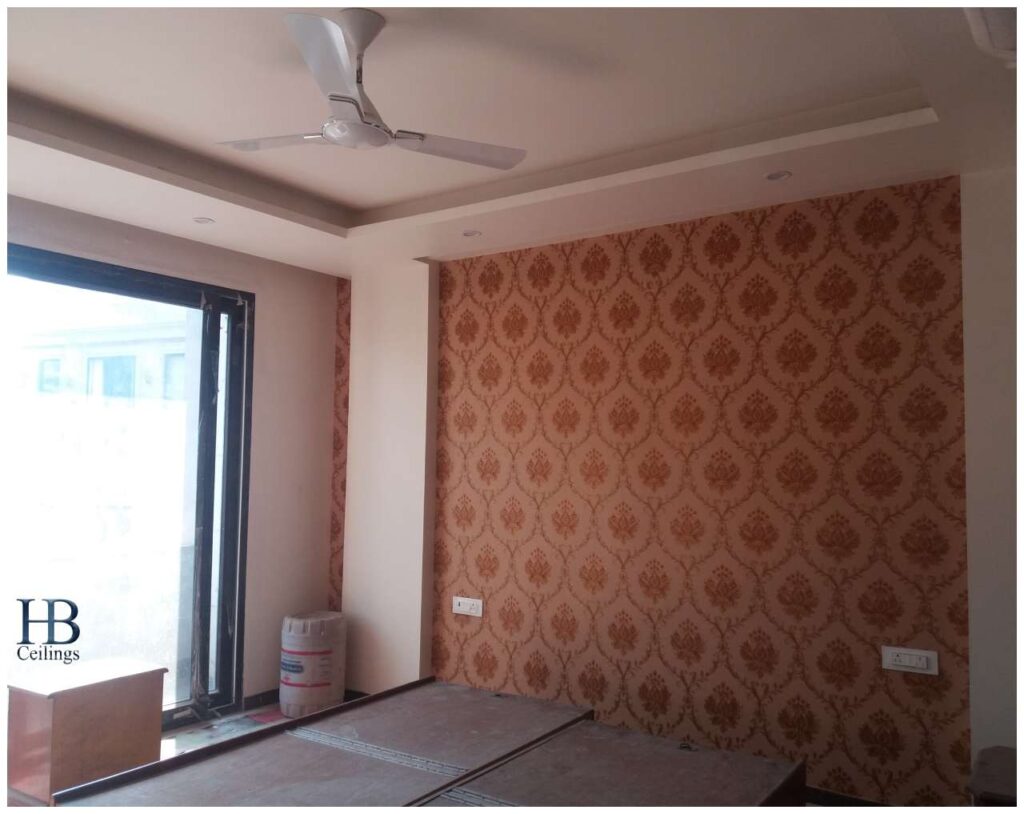 A simple but attractive ceiling is for lifetime and never goes out of style. If you had a simple ceiling design in the hallway, make some big changes as this look will remain in style this year. However, if you don't want to change your existing ceiling design. You simply can select a new color scheme that suits your interior design style and gives your room an attractive look.
Gypsum False Ceiling design with Wooden Texture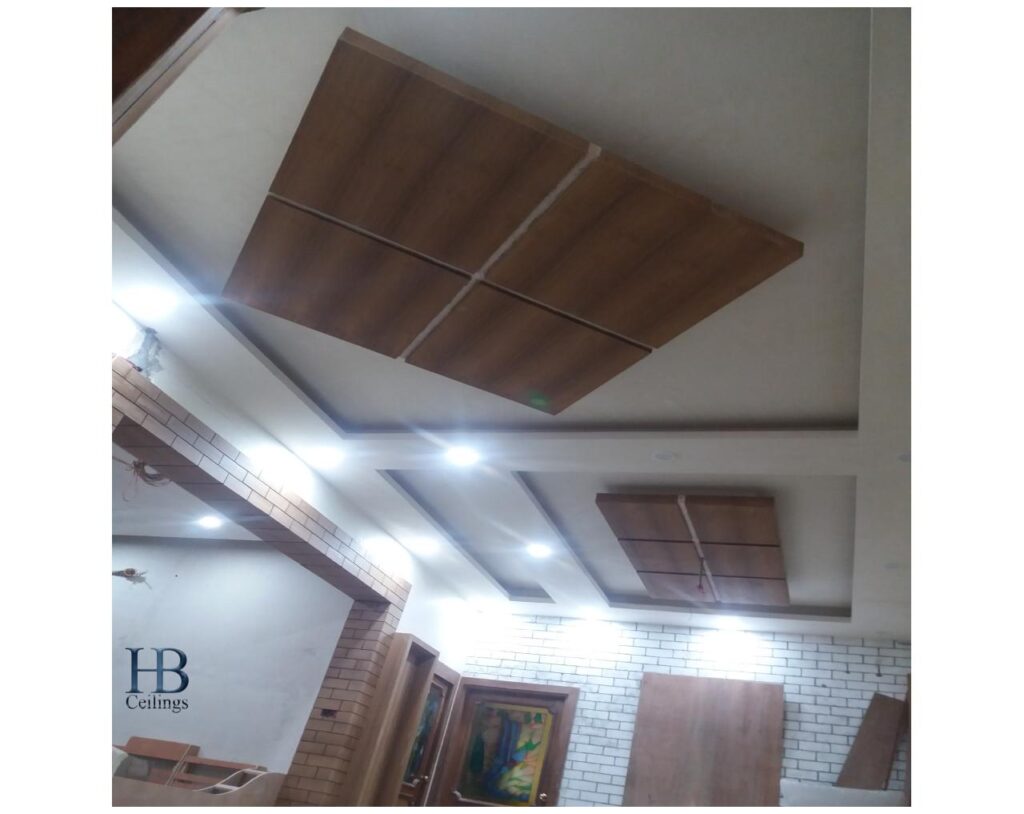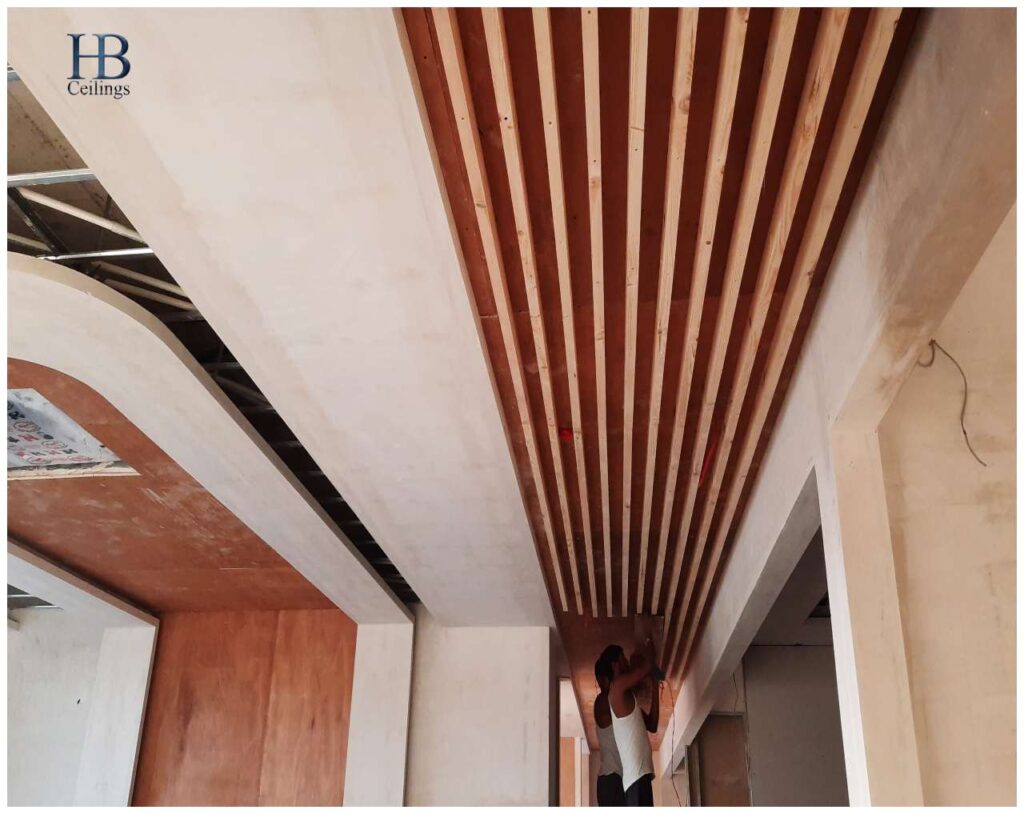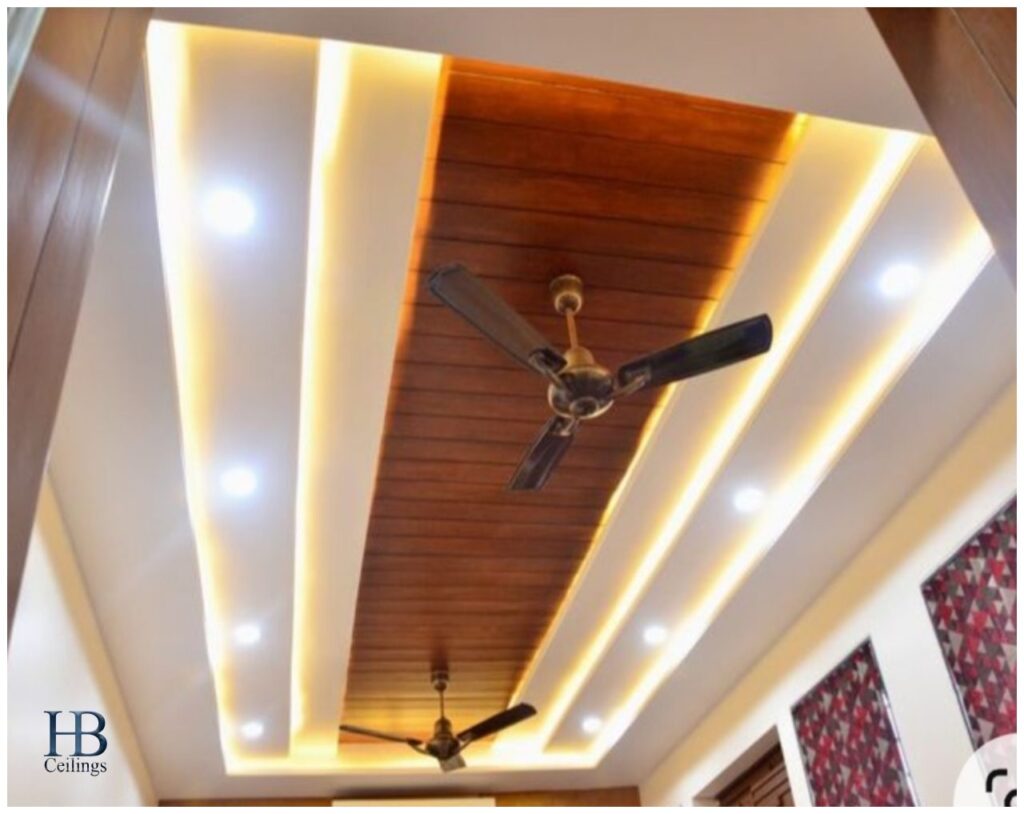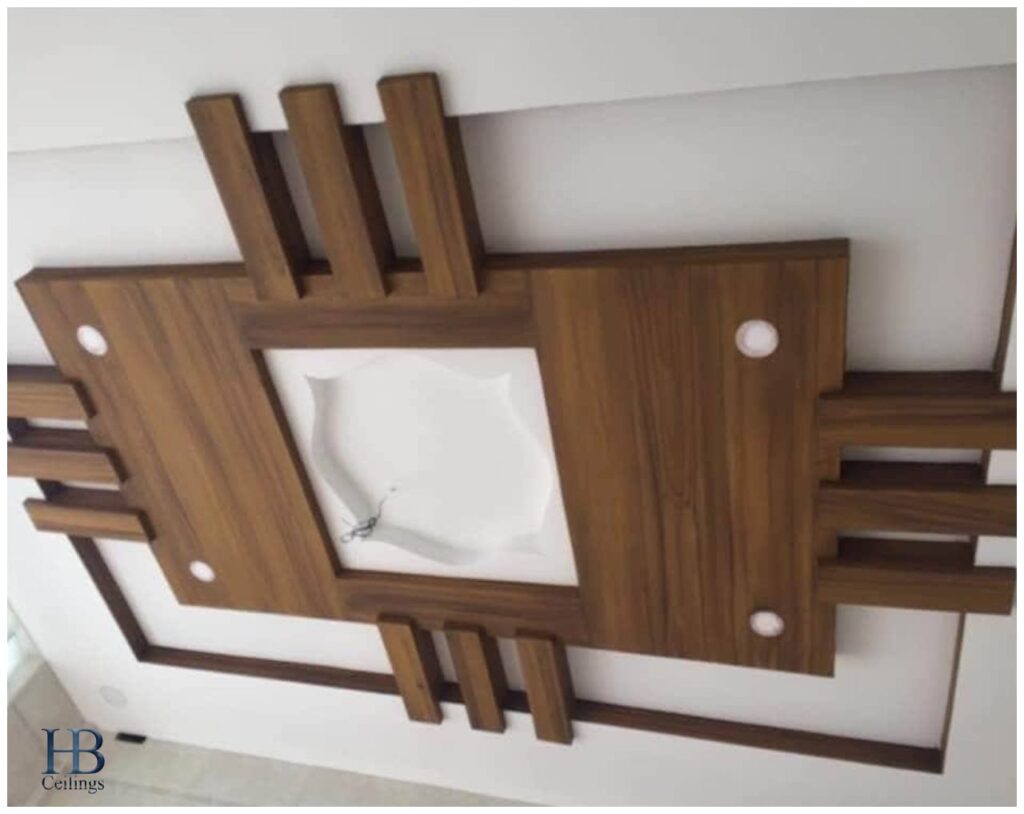 When it comes to giving a distinguished look, there is nothing that beats the essence of wood. If you've in doubt about a completely enclosed wooden ceiling, follow this idea. The cove of the ceiling is adorned with painted tree trunks for a rustic charm. This is in stark contrast to the rest of the elements in the room.
Wood is the material from which the best false ceiling designs are made. A suspended ceiling in gypsum with wood or brown finish can give a home a sophisticated look and enhance the home's natural appeal. It can be a great addition to any kitchen or dining room. Wood gives any false ceiling an attractive, simple and elegant look. In order to achieve the best results, pair false ceiling decor with wood furniture or flooring for a classic look.
You can have a simple false ceiling design for bedroom with wooden planks in the middle instead of just looking at the old ceiling in the middle. They look whimsical without making the room look unpolished. You can simply place them on the ceiling, or even use a design concept like the one in the second picture where the wooden beams run from wall to ceiling.
Zig Zag or Geometrical False Ceiling Designs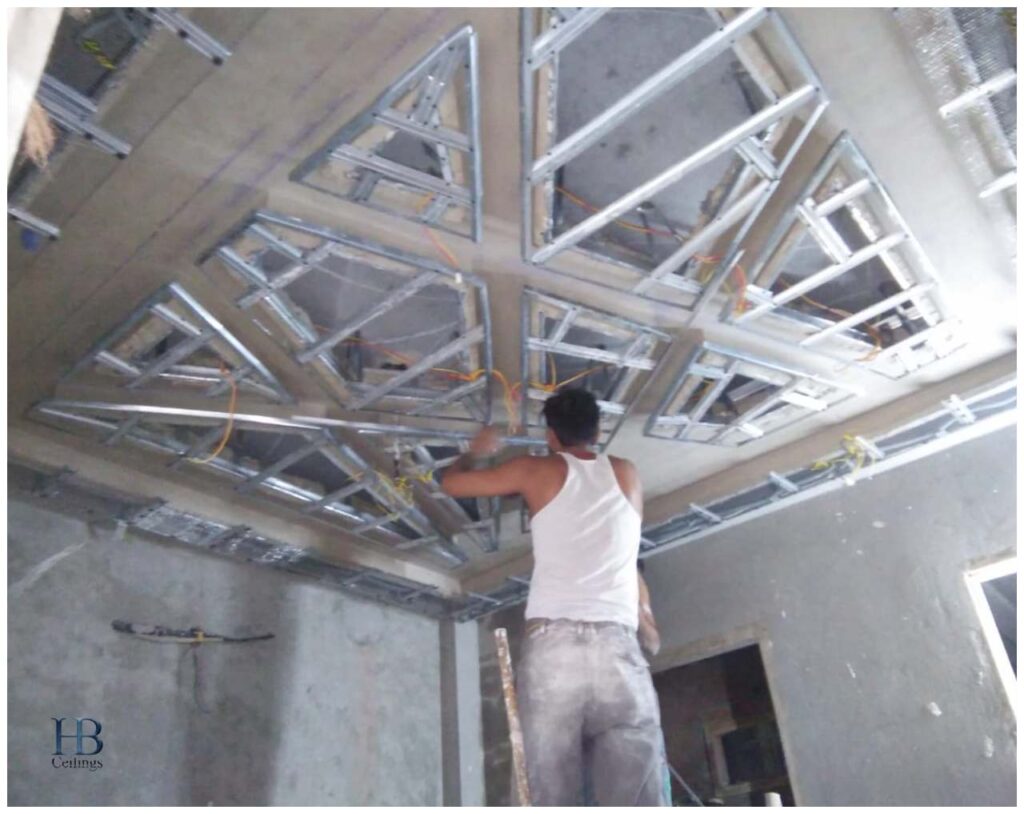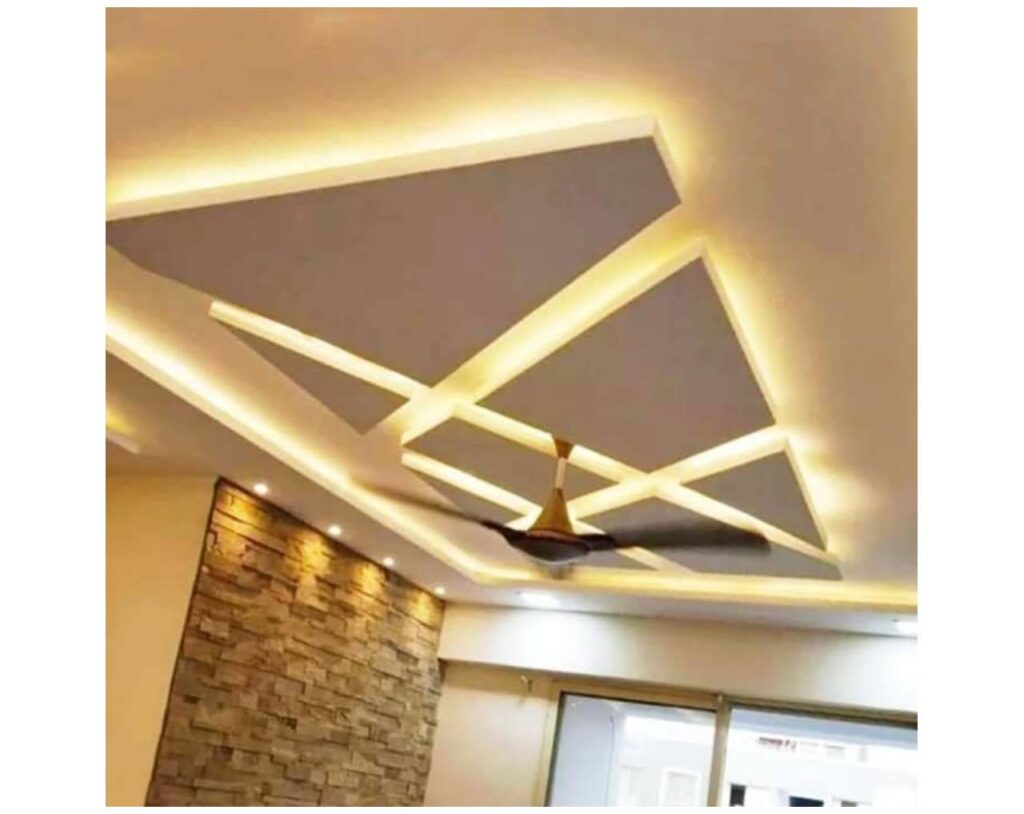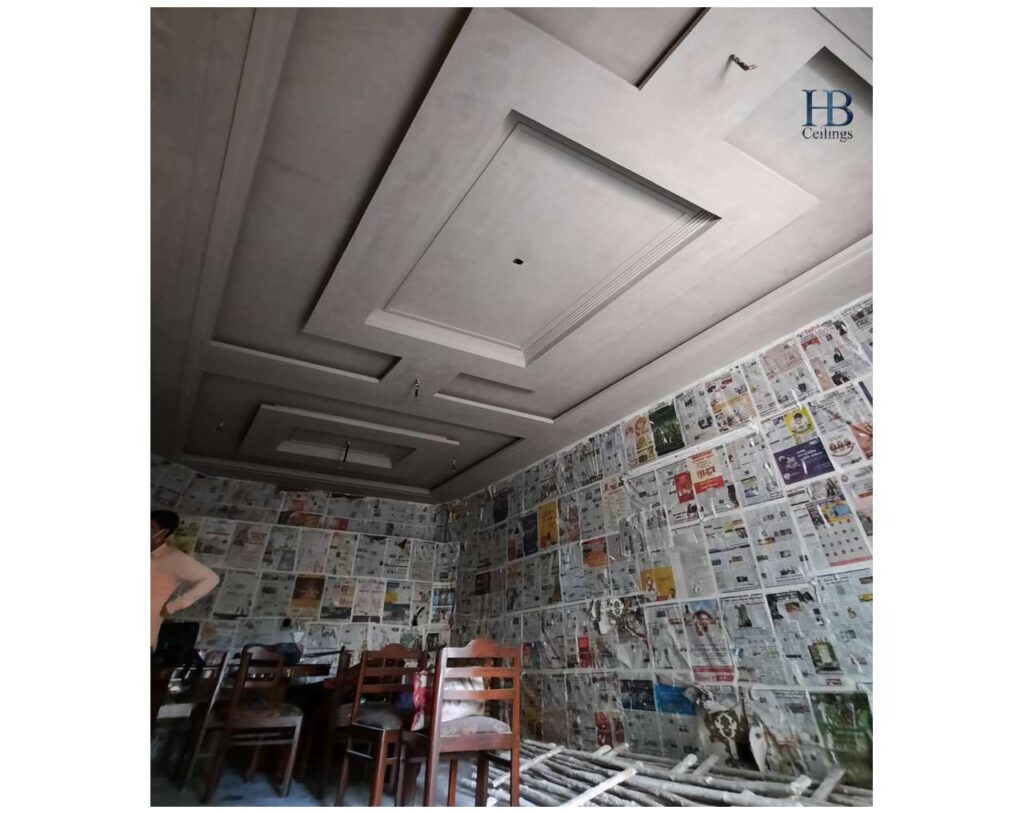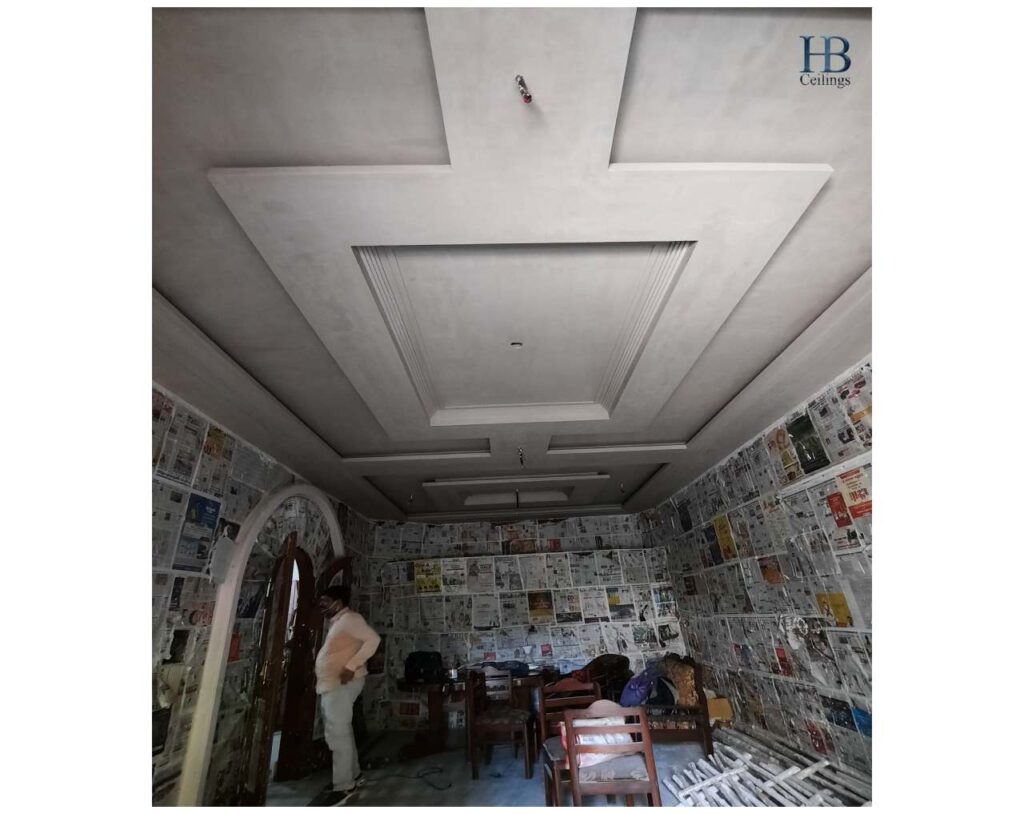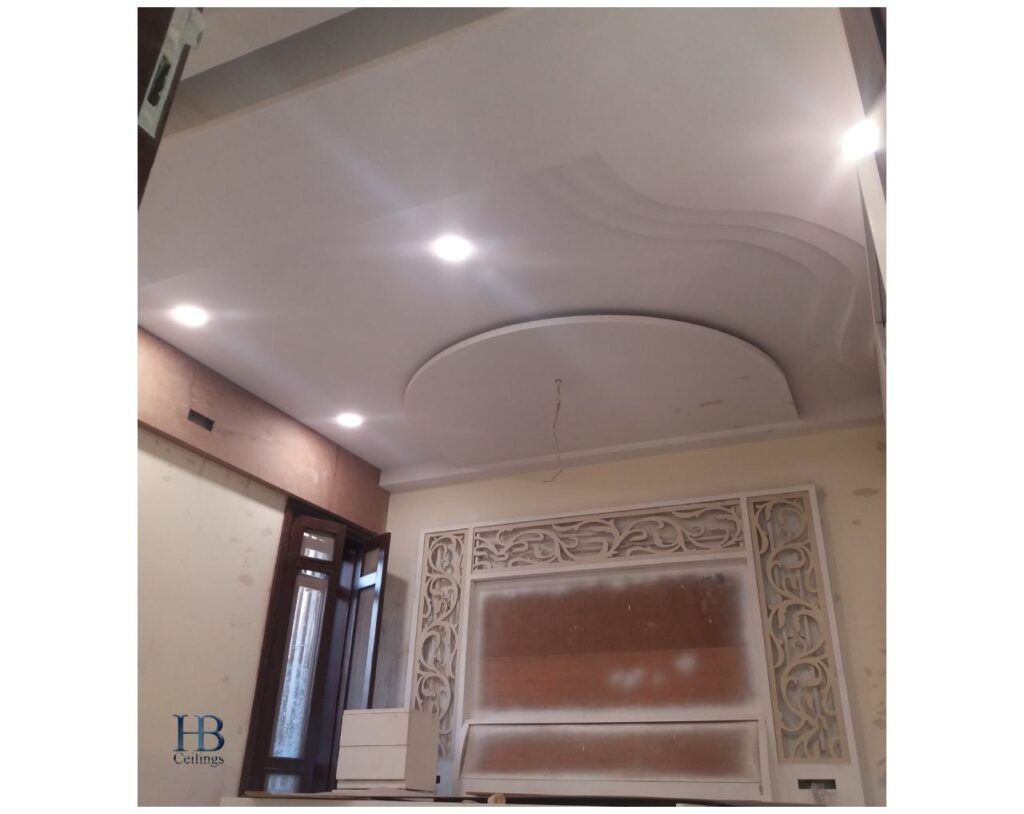 False ceilings can decorated with floral patterns or geometric shapes such as round, rectangular, square, abstract, cloudy, wavy, parallel lines, etc. Avoid frills and choose a design with clear, straight lines in small spaces. Always choose your lighting design in advance to find the right design for your furniture arrangement. Simple, single-level, uncomplicated designs popular nowadays, though gypsum false ceilings can multi-layered or single. Patterns can made along the edge or can cover the entire ceiling. In addition, gypsum or POP false ceilings can combined with sheets of wood, glass, mirror or acrylic for a sophisticated look.
Wallpaper false ceiling design, Ceiling wallpaper design for bedroom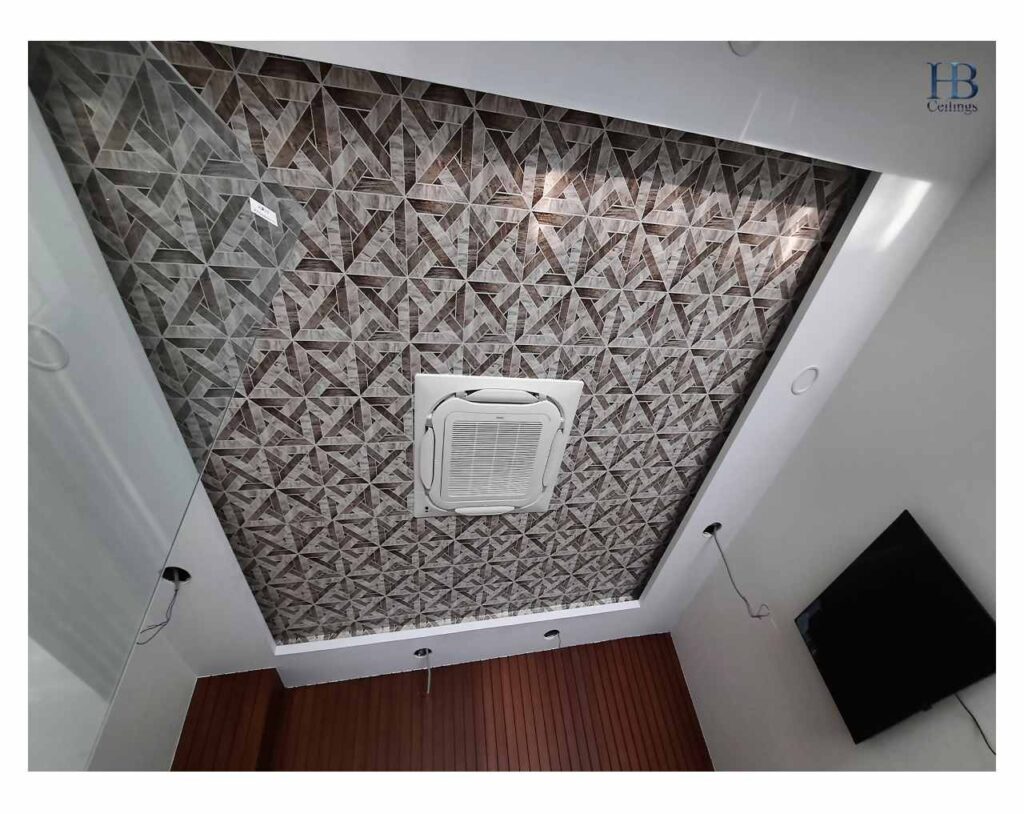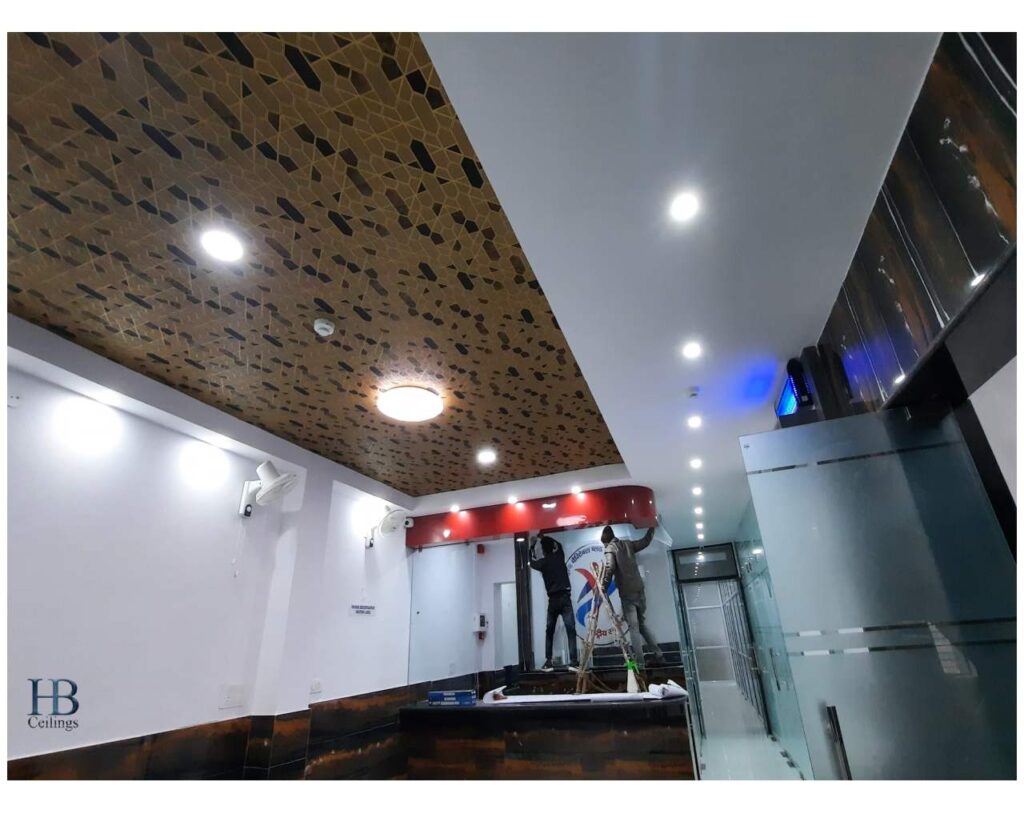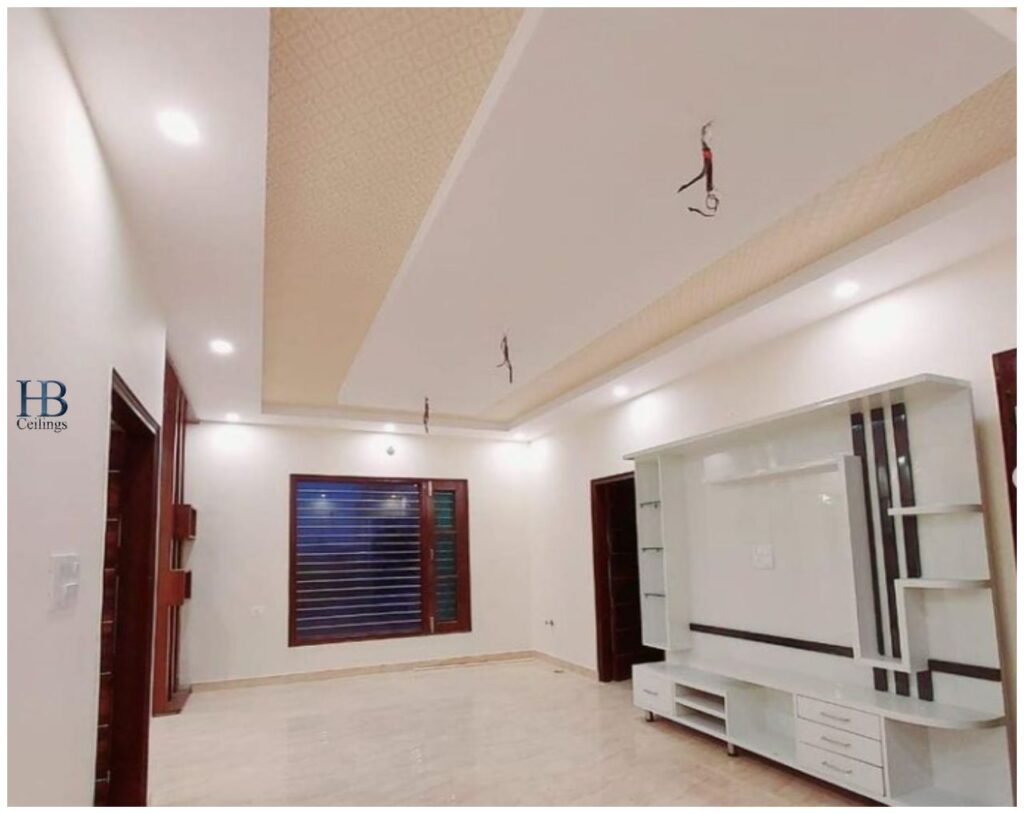 The wallpaper on the false ceiling has officially become a trending design. This type of false ceiling is exceptionally easy to make and requires only beams throughout the room with a whimsical wallpaper in the middle. If you do not want to obsessed with your furniture, this trend will save your life as the ceiling enhances the look and makes your room more attractive. Modern wallpapers such as 3D wallpaper are becoming the latest trends in home decor. In the attic you can install innovative plaster wallpaper. Wallpapers are available in a variety of designs, styles and colors to help you create the perfect atmosphere for your room. 3D wallpapers are also becoming a popular choice for bedroom false ceiling ideas. Generally the wallpaper in false ceiling is pasted in the cove section, as it hinders the edges of wallpaper and gives it an attractive and finished look.
Box type or Coffered False Ceiling Design
Another desirable design false ceiling design is coffered or box false ceilings. Get a new false ceiling design for 2022 with this look that will make your roof the center of attention. Choose a color scheme for your living room or bedroom ceiling that matches your interior design theme and can create a unique and amazing look for your room. Coffered design is ideal, simple false ceiling design for bedroom, and easy to install.
False Ceiling Designs for Bedroom with Wall Cusion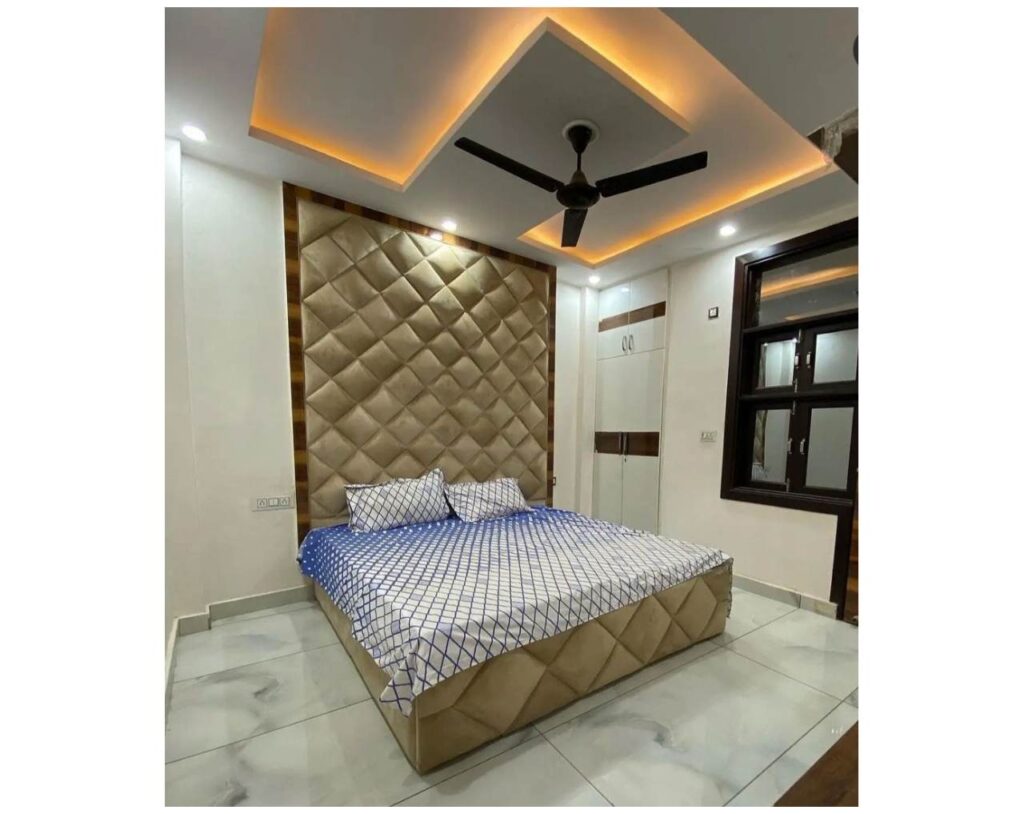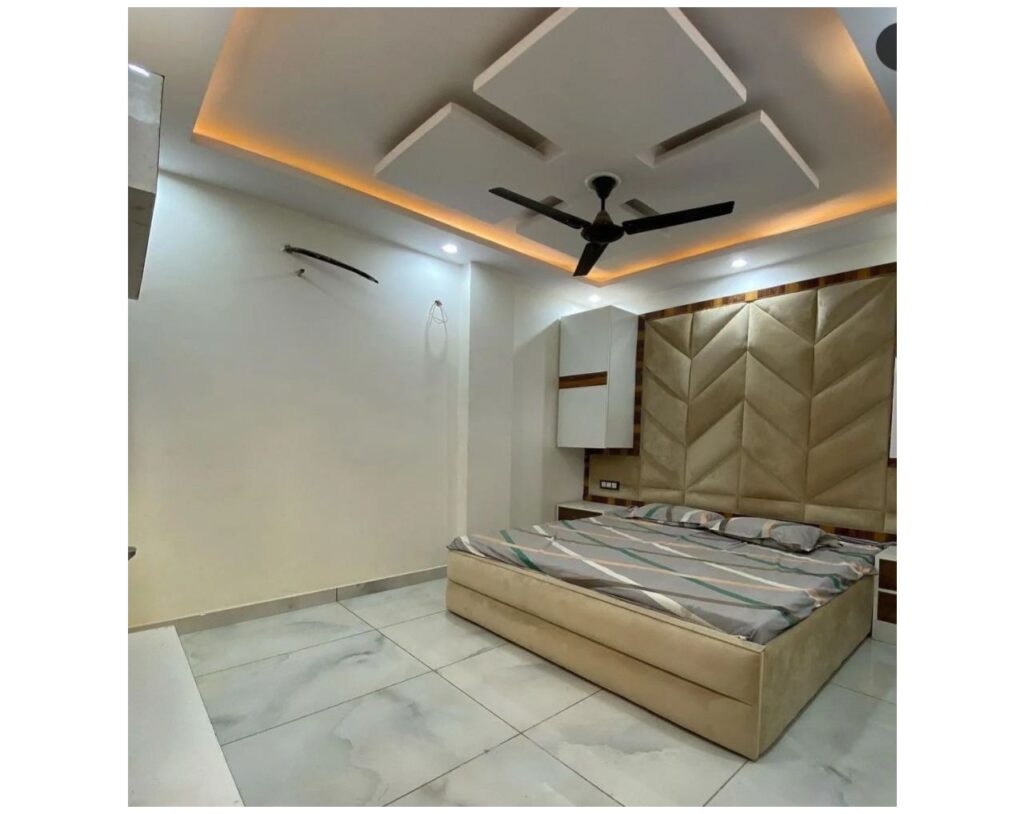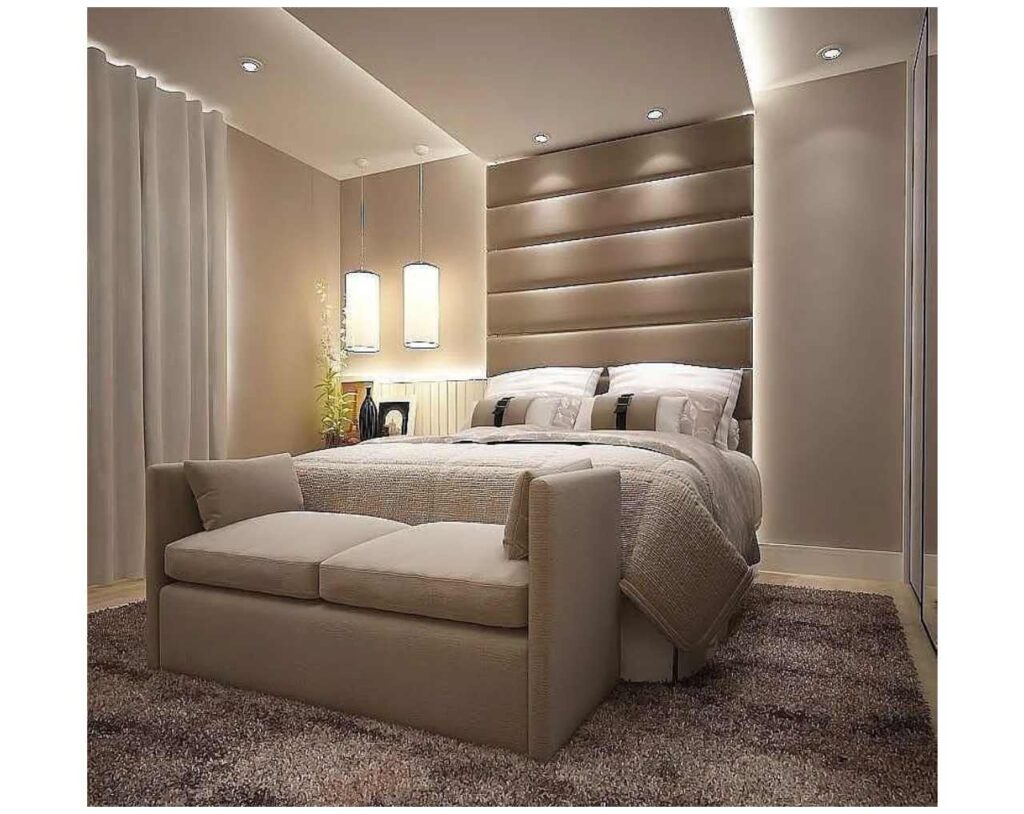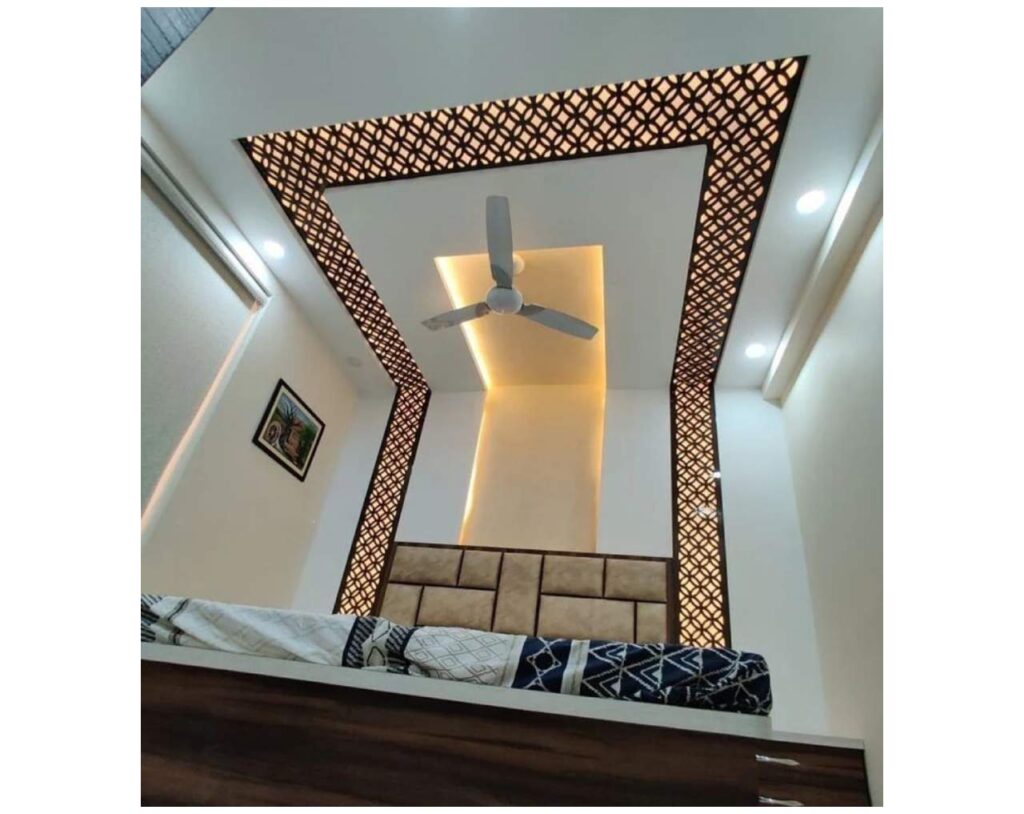 This beautiful ceiling certainly deserves special attention. A soft pillow decorates the bedroom wall so you can study and enjoy a movie or read a book. These kinds of false ceiling designs are also very popular nowadays. The special thing in this case is how it crosses the ceiling until it touches the wall. This gives an extra decoration to your false ceiling and enhances the overall look of your bedroom. Generally a wooden frame is made before making this cushioned wall.
False Ceiling design with plus minus POP design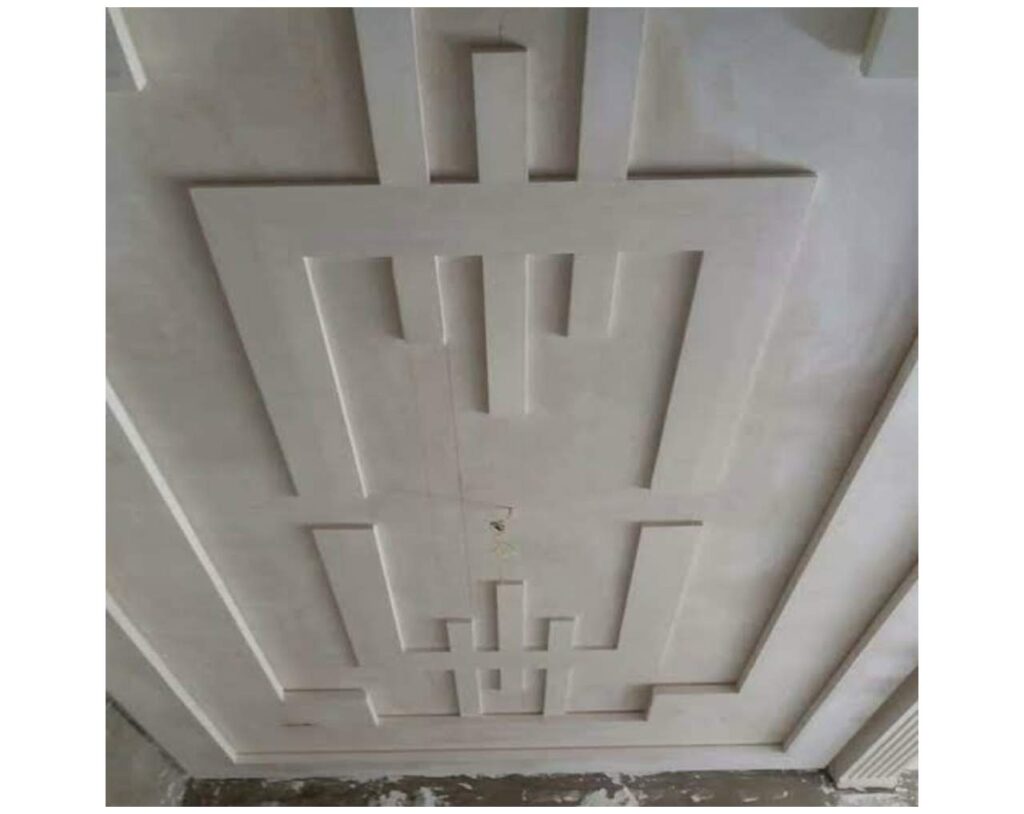 Create beautiful patterns by combining geometric patterns on your porch ceiling. POP designs of geometric shapes such as circles, triangles, squares, rectangles and hexagons can be combined to form a beautiful, yet amazing pattern. A square porch with a round roof looks attractive. The rectangular ceiling can be characterized by three round overflows in the middle. Use geometric patterns to create exciting frames. Create visually appealing geometric patterns by repeating the shapes on the ceiling.
Cove Light False Ceiling Designs
Cove lighting in the false ceiling highlights the overall false ceiling design. Concealed recessed lighting brings the space to life, while overhangs adorning the walls add elegance. Choose dimmed light along with ordinary lighting to create accent lighting for different moods. This simple false ceiling design for bedroom is also suitable for decorating the ceiling in the bedroom. Try not to hang too many heavy lights on false ceilings. Built-in luminaires are a suitable lighting option for rooms with low ceilings. Intricate pendant lights add an essence of uniqueness and create a focal point in the ceiling.
False Ceiling Design with Wall Facing Cove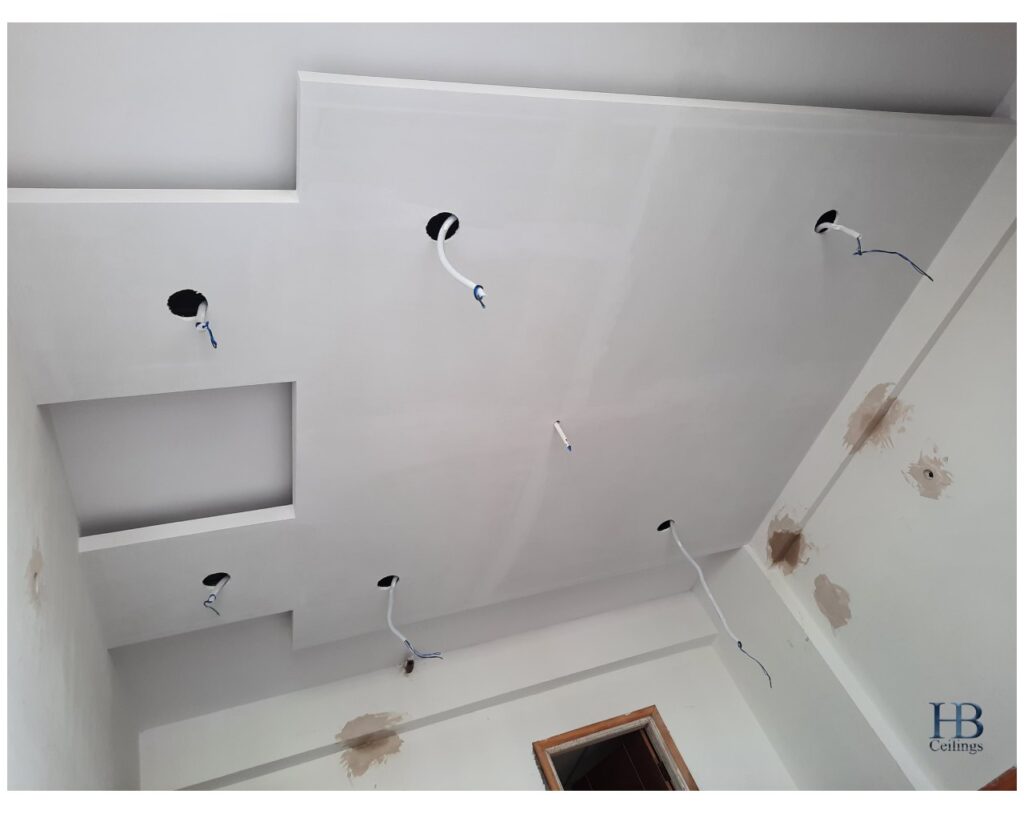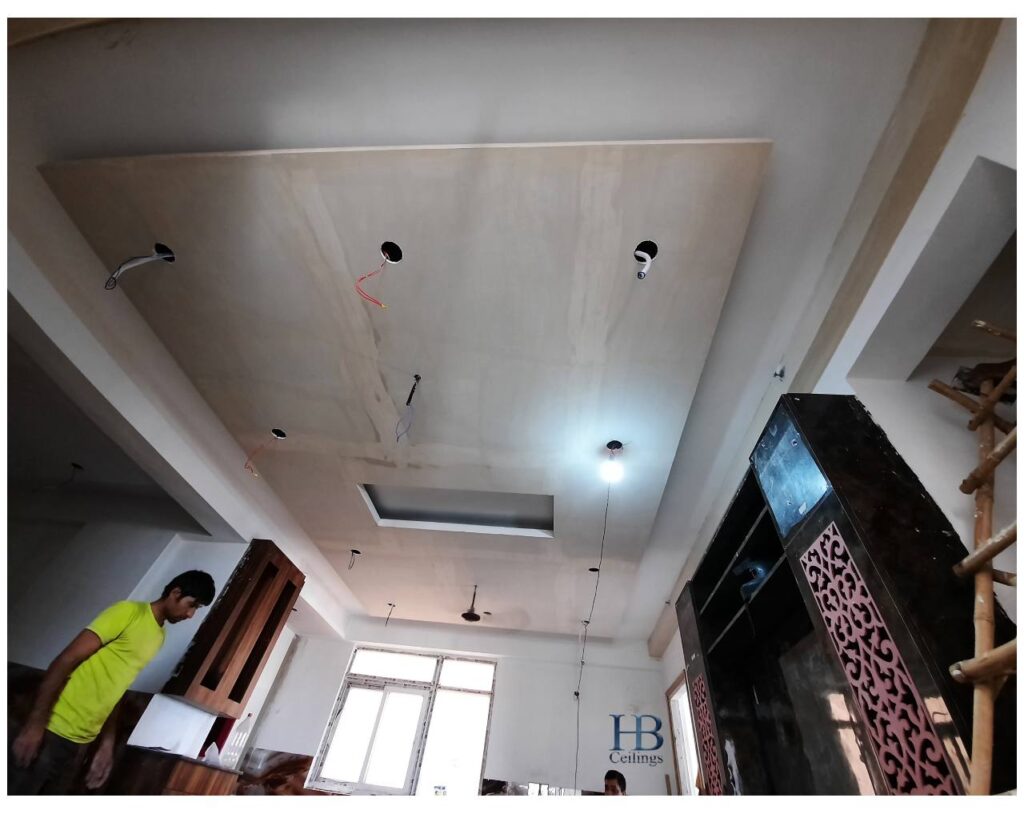 One of the current trends in gypsum false ceiling design is side cove lighting. You can build a gypsum or POP false ceiling in an entire room by simply splicing the ends together and installing LED lights. This elegant and modern design gives the room a warm and cozy feeling. This ensures that the light is not too dazzling and harsh, but instead envelops the room in a fading glow while still providing adequate lighting.
Round Cove POP False Ceiling Design for Bedroom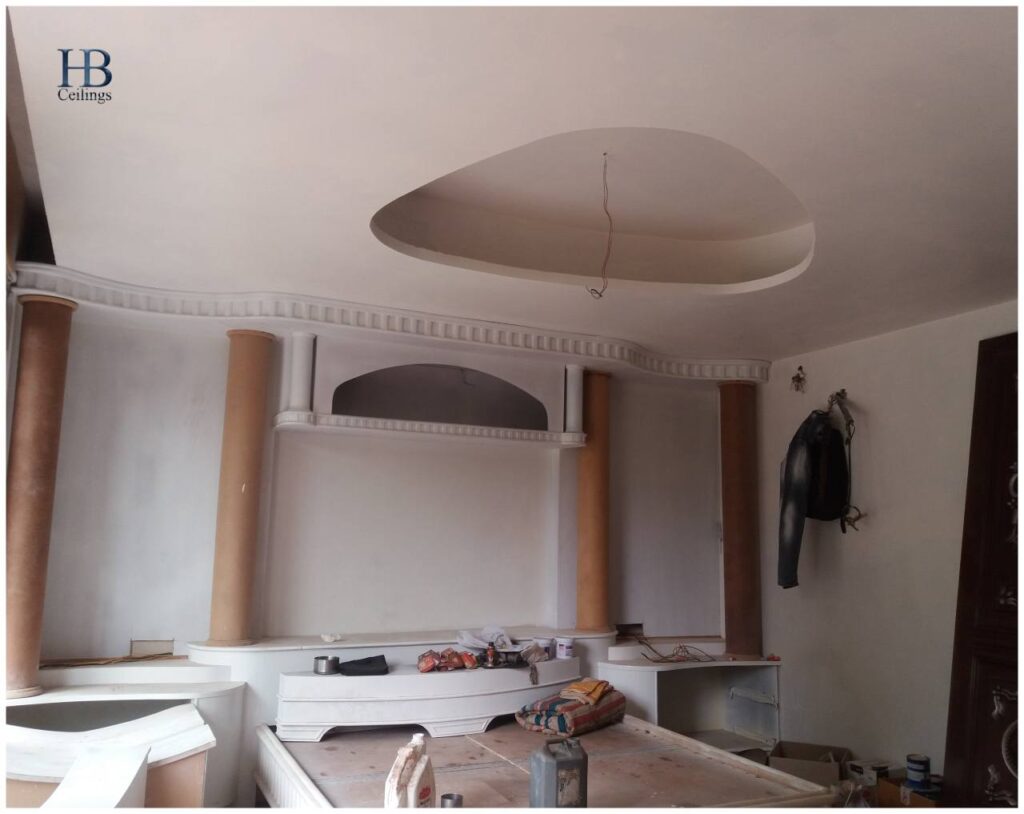 The round shape cut into the false ceiling not only makes it an ideal place to install a fan or chandelier, but also draws attention to both the ceiling and the bed. Although it seems minimalist, you can also cut a few circles in the ceiling and install a built-in light in each of them. As you can see in the image, the effects of the lights are just spectacular.
Side Cove False Ceiling Design for Bedroom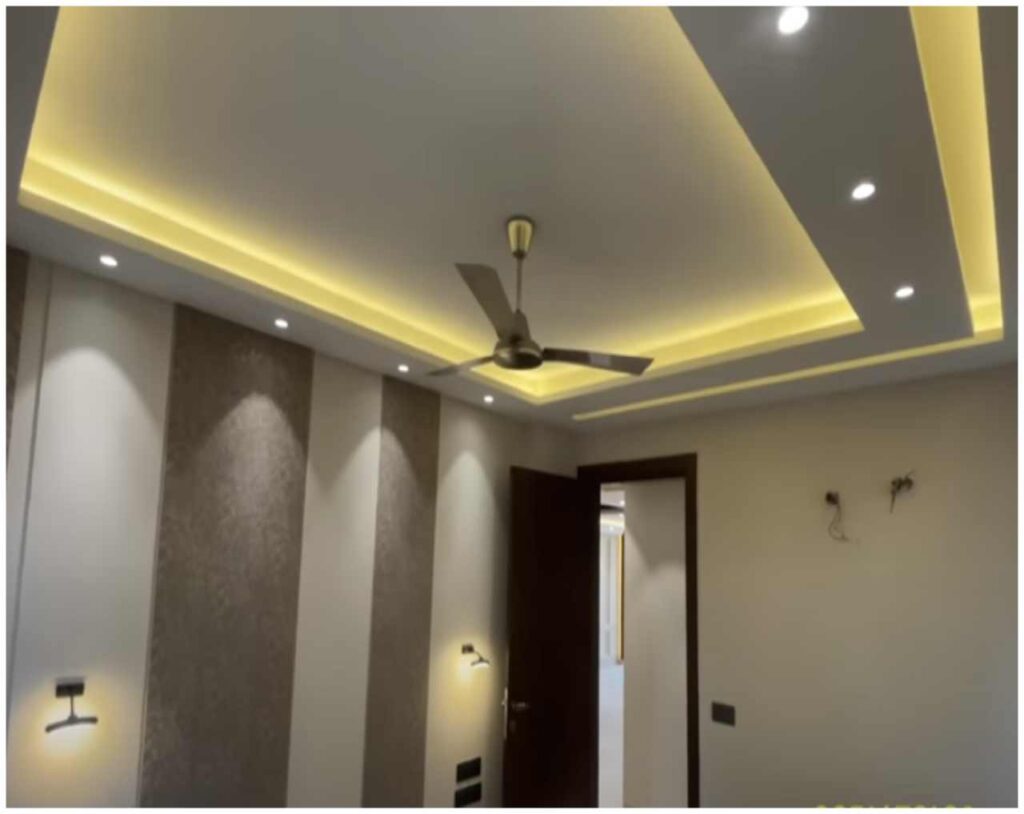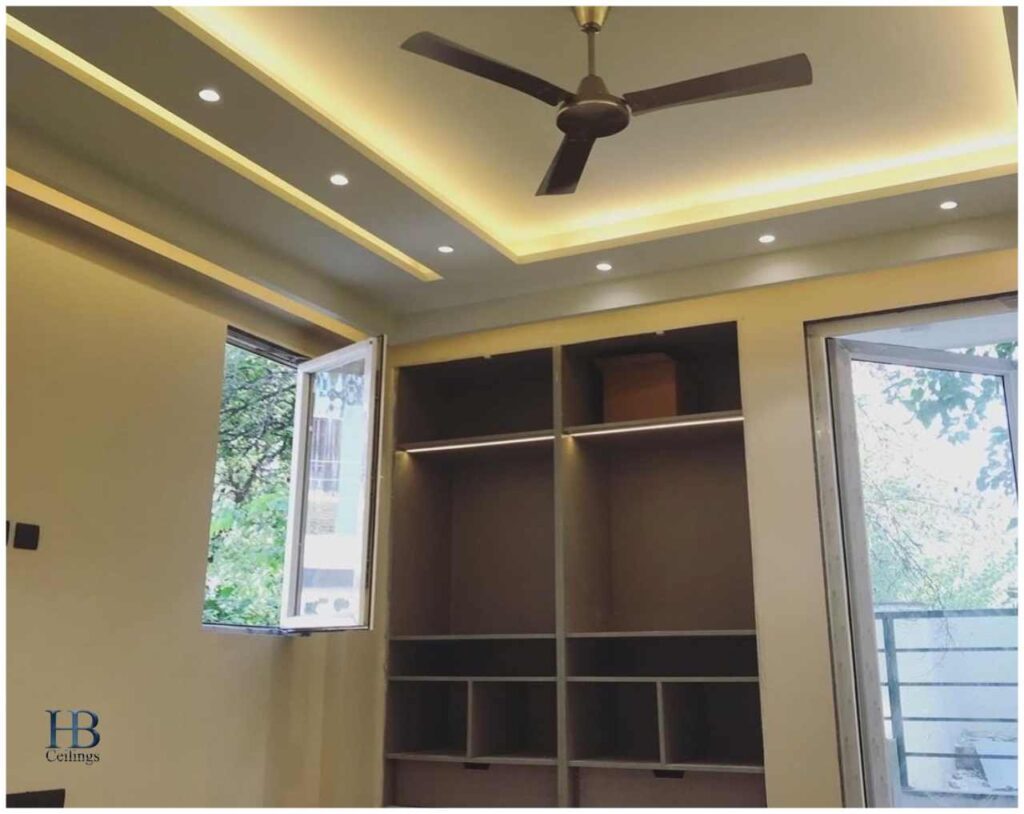 A low ceiling with side and cove lighting is one of the oldest and still the modern false ceiling concept options. This type of false ceiling is simple and easy to install and it can be installed anywhere in the home, from the living room to the bedroom and even in the bathroom. They are extremely easy to make and create a feeling of warmth and comfort in the room. Installing spotlights in a straight line will visually make your room look longer than usual.
Zoned false ceilings ideas for bedroom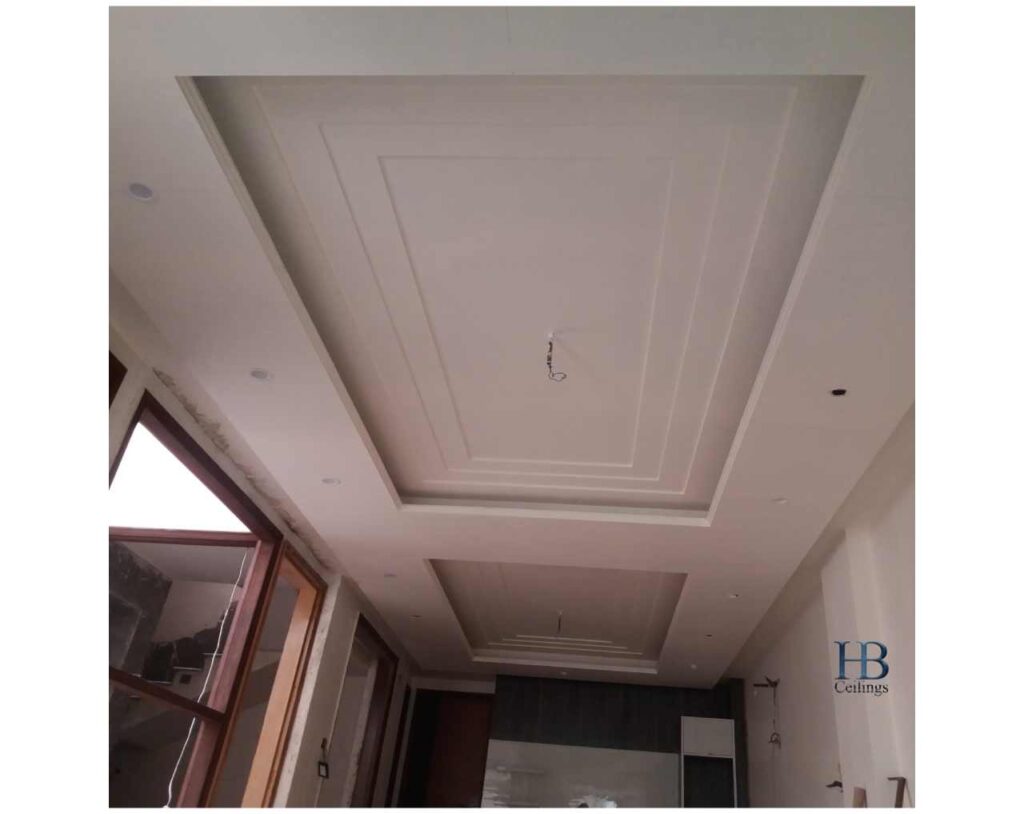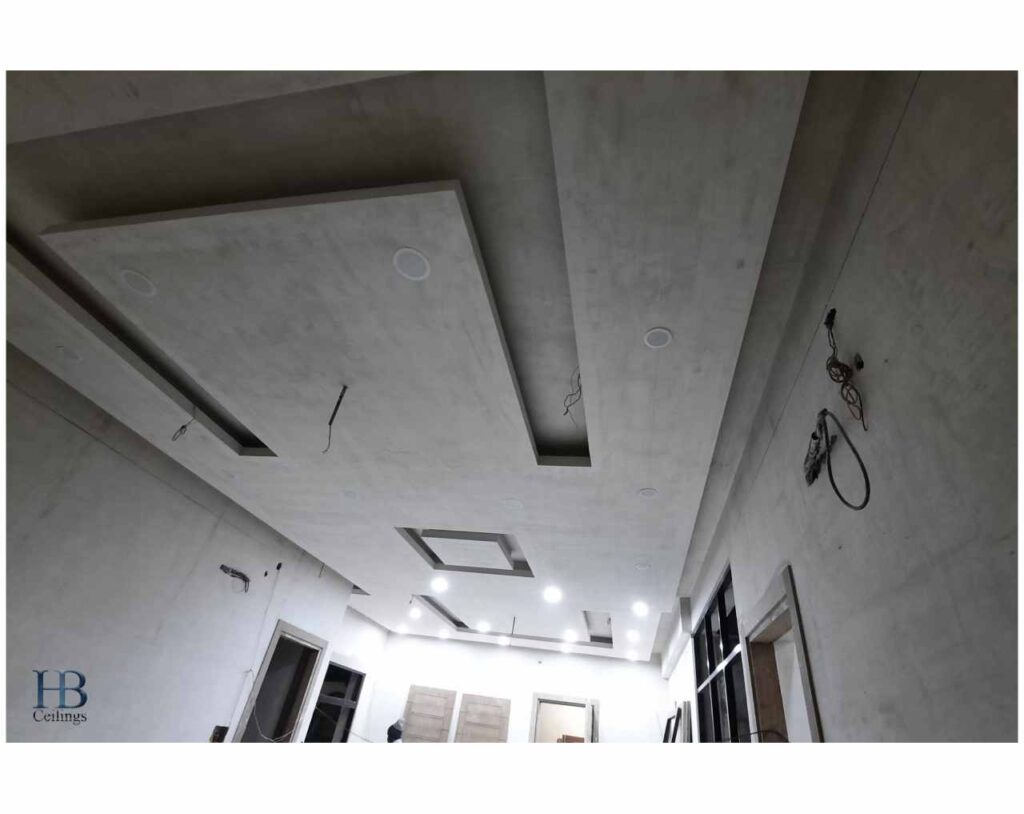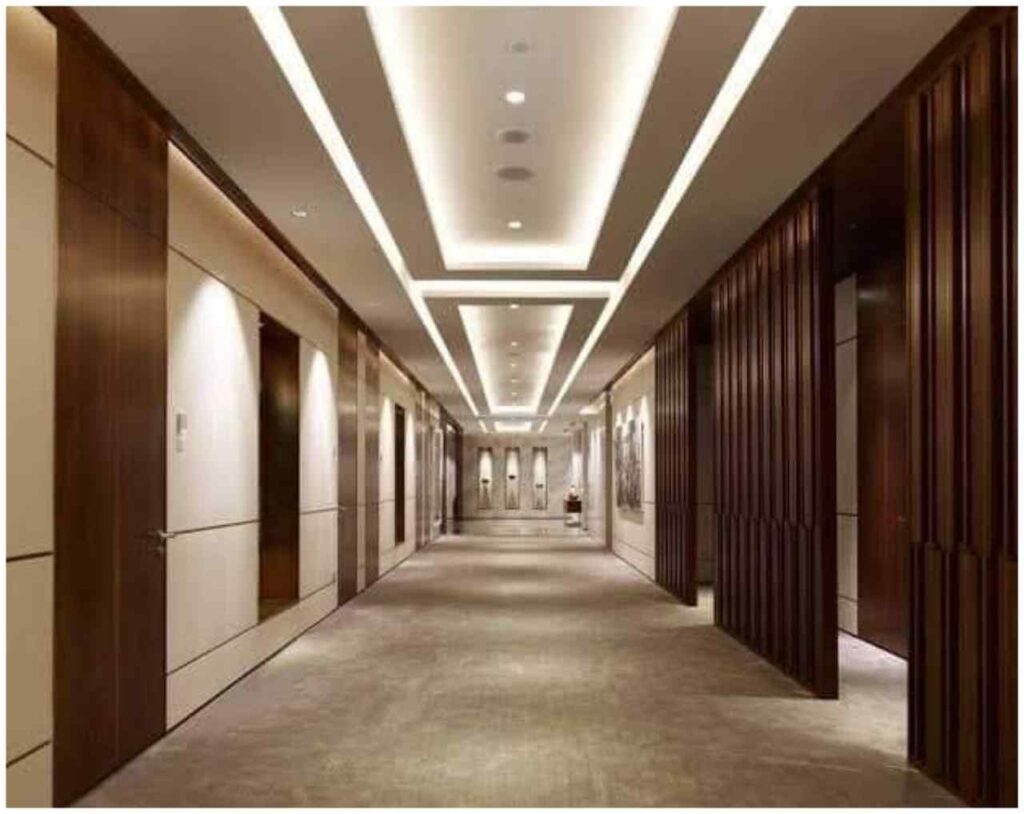 You can implement this kind of design in spacious spaces that serve multiple purposes. For example, if the bedroom has an office or living room, divide the different areas into "zones". In addition, the height of the false ceiling for each zone is different, delimiting certain zones from above. This is considered one of the best simple false ceiling design for bedroom.
Conclusion
In order to make your false ceiling more appealing, you can choose a lighter shade on the wall in a gypsum false ceiling. Mixing white with a color will dilute it and give you the perfect color for a POP false ceiling design for bedroom. If you are looking for the best and simple false ceiling design, choose subtle tones for other décor elements to create a cohesive look.
The possibilities are endless when it comes to bedroom ceilings. There are several unique styles to choose from when designing a bedroom false ceiling. The design of the ceiling in the children's room can be more experimental and creative. So instead of the standard shapes, clouds, flowers or the sun can be good ceiling design ideas for the bedroom. With designer ceilings, the possibilities are endless and the results are extraordinary.
This completes our list of simple bedroom designs with gypsum ceilings. However, before restoring the pattern, we recommend that you consult with a specialist to discuss the type of material, cost, and decorative elements that make up the pattern. HB Ceilings provides top notch false ceiling service, when it comes to designer false ceiling service. The company also provides simple false ceiling design for bedroom near Noida, Uttar Pradesh. We provides all kinds of designer false ceiling service at the best price. HB Ceilings deals in all kinds of service including POP, PVC, Gypsum, Grid false ceiling service, and Gypsum partition service also.